Large Welsh Corgi Decorative Hanging Welcome Slate What better way to honor your devoted pet than with one of our heirloom-quality decorative accessories? Wildlife artist Chris Smith captures the distinctive characteristics of over forty dog breeds. Using a unique transfer process, his original art is applied to the product and then double-sealed to ensure long life. A must have for every serious pet-lover. Order one for yourself or give as a house-warming or wedding gift. Small Slate measures 8 high by 6" wide. Large slate measures 12" high and 8" wide."
Related Products
Here are other products you may be interested in.
This "I Love MY Pembroke Welsh Corgi" bumper sticker is a great way to show off your love and affection for you favorite family member. The 3" x 11" vinyl sticker with its signature red heart can be displayed anywhere.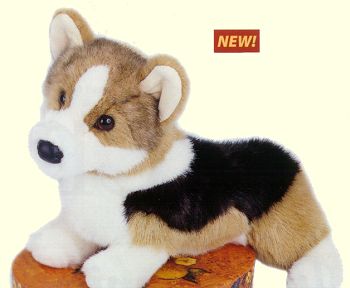 Kirby Stuffed Tri Corgi. Beautifully detailed soft plush corgi in the size of a real puppy. From Douglas. 16 Inches Long.
Nothing beats the exceptional look and quality of our Corgi Welcome Sign Pembroke. Among the finest made, you will be provided with great satisfaction and long lasting enjoyment. Why not pamper yourself or give a loved one a Corgi Welcome Sign Pembroke to show them how much you care. The Corgi Welcome Sign Pembroke will make the perfect gift for any Corgi Welcome Sign Pembroke lover. Shop with confidence, because all products come with a 100% customer satisfaction guarantee. Click over now to see the big selection of Corgi Welcome Sign Pembroke gifts.
What better place to display your dog but in their own "doghouse?" Each frame depicts the breed from puppy to adult and holds a 3"x5" or 4"x6" photo. Frame measures 6 1/4" x 7."
These cute little fur bundles are all-smiles all year long! Twelve delightful full-color photos capture all the charms of these wonderful dogs. The large format features big daily grids with ample room for jotting your reminders, appointments and birthdays. Also included are four bonus months of Se
Our shirts are printed with state-of-the-art technology. We do not use heat transfers: The printed image cannot flake, peel or crack like a transfer can and is super soft to the touch.The printed design is high resolution, photo quality and large: at least 12" x 12"We only use 100% cotton 6.1 oz. heavyweight shirts from top brands.All images were photographed by Vincent Strangio and are only available through us.
Corgi owners need to make sure their new ones know who their owners really are! This is one of our most popular designs and sure to get a laugh.
Now you can take your favorite pooch with you wherever you go! Ceramic travel mugs are dishwasher safe, 6 ½" tall and feature an artistic, close-up rendering of your four legged friend. Great for traveling or as a gift for a special pet lover in your life!
Original Welsh Corgi Pembroke SANDICAST Dog Sculpture Artist Sandy Brue's designs have set an industry standard. Every sculpture exhibits a stunning realism that is the hallmark of a SANDICAST piece. Hand-casting is a slow, methodical process that produces a piece free of flaws and bubbles. Every intricate detail is captured--be it a bulldog's furrowed brow, the velvety texture of a Siamese cat's ear, or a West Highland Terrier's little, curled tongue. Following casting, each SANDICAST sculpture must pass strict quality control before it can be painted. Artisans use both bristle and air brush methods of painting. Multiple painting steps and techniques take longer, and cost more to produce. SANDICAST creates the highest quality, most realistic, and lifelike sculptures on the market today. The final step is the insertion of specially crafted glass eyes. Glass eyes give more sparkle and many are custom made for SANDICAST. Often people comment when looking at SANDICAST animals, It feels as if they're staring right back at you!"Dimensions of Welsh Corgi Pembroke sculpture: 11"L x 5"W x 6"H"