This micro fleece with half zipper top has your favorite dog breed embroidered on the left chest. This high quality embroidered top has concealed pockets and a drawstring at the hem. Features shoulder yoke, top stitching, self collar and embroidered dog paw on the back. This item ships directly from the manufacturer to addresses within the US only. Please allow approximately 10 days for delivery. This item is custom made and Non-Returnable. Glacier Blue.
Related Products
Here are other products you may be interested in.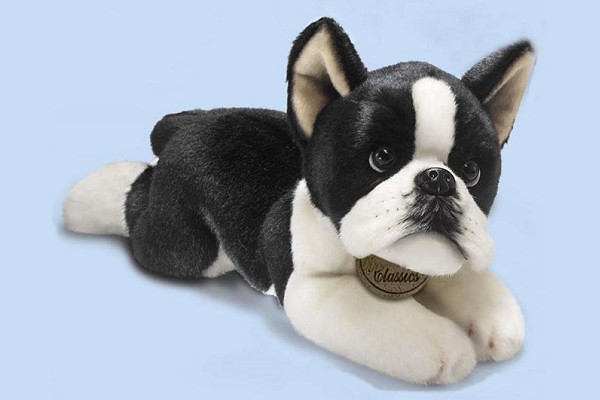 Lifelike lying floppy plush Boston Terrier from the Russ Berrie Yomiko Classics collection. 17 Inches Long.
The Doogie Collection is simply one of the most innovative gift concepts on the market today. Our patented interchangeable, locking o-ring system allows customers to create almost 20,000 different DOOGIE designs. With over 200 different dog breeds, 8 cat breeds, and 4 animal species combined with 12 Doogies in Motion and 111 Professional, Sport, Special Event, Musician, Uniformed, and Destination figurines, we're sure to have something for everyone. Let your dog walk in YOUR shoes for a while. Appx. 2 tall"
Because of the Boston Terrier?s sunny disposition, it is sometimes called ?the American gentleman among dogs.? One of the oldest American breeds, Boston Terriers do indeed hail from its namesake Boston, one of America's oldest cities. A loving, sensitive dog, the Boston Te
From Michael Park, Master Woodcarver, a decorative hall mirror featuring a hand painted representation of a Boston Terrier peeking out. This wooden framed mirror with three 2.5 inch shaker pegs for hanging leashes, keys or hats, will enhance any dog lovers decor. This dog breed mirror makes a beautiful accent when hung by the door or in a hall. The Classic Oak frame is hand stained Golden and measures 12 X 21 X 1.5 inches. This item is custom made once order is placed and non-returnable. Expedited shipping is NOT available. Please allow approximately 2 weeks for delivery.
Features a hand painted resin representation of a Boston Terrier mounted on a 4 x 15 inch wooden sign finished in either Maple or Natural Oak. Each Welcome Sign is topped by a dog breed hand-crafted from original woodcarvings by Michael Park, master woodcarver. This Welcome Sign is a delightful addition to any dog lovers home. This item is custom made once order is placed and is non-returnable. Expedited shipping is NOT available. Please allow approximately 2 weeks for delivery.
Individually handcrafted in the USA of premium quality fabric. Cover removes for dry cleaning, enabling this pillow to last into the next generation of dog lovers. The conformation of the breed is superior to any depiction found on fabric. This drop ship item is custom made and is therefore non-returnable. A 5-8 week lead-time is required for this made to order product. Express shipping is not available.
A true-blue Bostonian, this Boston Terrier has the dramatic coloring and distinctive pointy ears defining its breed. With excellent quality construction and attention to lifelike details, its soft furry fabric makes it an especially pet-able pet. Dimensions (W x H x D): 20.1 x 9.2 x 7.2. Age rating: 3 yrs and up.
Dogs and Cigars...a guys dream! Meet Stogey, an adorable plush stuffed animal. A great gift for any cigar connoisseur! Stands 8 inches tall.
Wearable art for the dog lover! This 24K Gold Plated Boston Terrier pin captures even the finest details of the breed. These original designs are cast from sculptures by talented wildlife sculptor George Harris. Each Gold Plated pin is hand poured and finished in a 20 step process. This Boston Terrier pin is cast in Fine Pewter, and plated in 24K Gold. Each dog breed pin is also available in Fine Pewter or Hand Painted finishes as well as a Keychain.